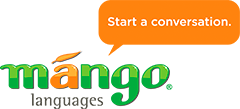 Our family has had the opportunity to use the beta version of
Mango Languages Homeschool Edition
. It had always been my plan to learn Spanish with Avery. We've done little things over the years using board books and using some phrases that I've managed to hold onto over the years. It's been a slow dipping of the toes into the shallow end of the language pool for us.
Now that the girls are here, and we've plunged head first back into the deep end of homeschooling, our approach of learning Spanish as part of our homeschooling journey has taken a little consideration on my part.
Mango Languages
has been a great tool in helping me explore how we will implement foreign language into our homeschool. I still haven't fully decided exactly how we'll go about it over the long haul, but we have been enjoying our sampling of the beta version of
Mango Languages Homeschool Edition
.
Accessing the
Mango Languages
online is a breeze. Once we selected Mango Passport Spanish (
Latin America
) it took its rightful place in Harmony's personalized profile page under her membership spaces. She loves seeing her picture there! All she has to do is click the link, and she's off learning Spanish. She easily picks up where she left off during the previous session. It's fun to hear her come out and say, "I know how to say good night in Spanish!" She then proceeds in telling me, "Buenos noches!" Every time she uses the program she practices what she's learned on us or asks us if we know how to say a certain word. Through her exploration of Spanish we are all increasing our knowledge of the language. It definitely has given her a little confidence boost and something to be proud of. We're not carrying on conversations yet or anything, but she is being introduced to another language in a very comfortable, easy to learn, non-threatening way.
Just for fun, I took the pre-test before having Harmony begin the journey of learning Spanish. I absolutely love the way it's set up. The fact that you actually hear the word being spoken, and you can repeat it as many times as you like, makes it really easy to learn to speak the language properly. There is even a feature that would allow you to speak into the computer and have your pronunciation analyzed, but unfortunately we do not have a microphone for my laptop. This feature is very appealing to Harmony, and I may try to figure that out on our end for future use.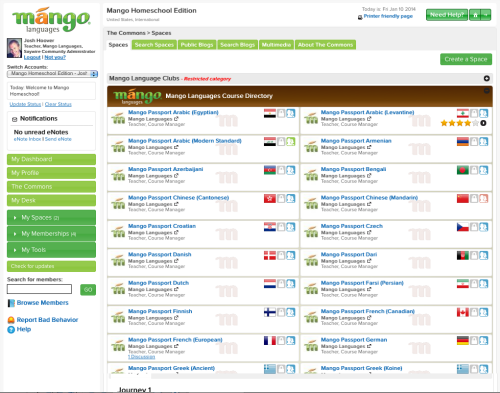 Mango Languages Homeschool Edition
in beta form has many fun and useful features available. We primarily stuck to just using the actual language curriculum due to the age of the children in my home, but there is much more to offer the more experienced and/or older learner. Mango Languages is designed for use by individuals age six through adult. There are over 60 languages available to choose from with learning features that include things like progress assessments, built in journals, discussions, and wikis, collaborative learning spaces, eNote messaging, and chat rooms, and so much more. In the future there will be the added features of enhanced tracking and progress monitoring, including seat time for students and parents, goals and personal lesson plans, and a resume and portfolio builder.
1 subscription is $18/month or $125/year total
2 subscriptions is $28/month or $175 /year total
3 subscriptions is $38/month or $225/year total
4 subscriptions is $48/month or $275/year total
5 subscriptions is $58/month or $325/year total
6 or more subscriptions receives a special group rate
More information on pricing and group rates is available on the website.