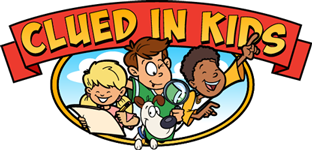 This second journey we are on as a homeschooling family is rather different than the previous one we took. One of the biggest differences is technology.
Clued in Kids
is a prime example of a fun resource that we get to enjoy now that would not have been part of our homeschool experience 17 years ago. This wonderful, educational resource came about as the realization of one mom's childhood dream. How exciting is that?
The motivation behind
Clued in Kids
is to provide a fun and healthy way to educate our children while being reminded that life is a journey to treasure. Mission accomplished! Our family loves opportunities to share fun times with each other as well as other homeschool families. This year we are gathering together once per month to share activities relevant to our current course of study with a nearby family traveling a similar course. This month the gathering was at our home, and I was excited to tie in our
Gluten-Free Treasure Hunt
as well as our
Soccer Treasure Hunt
with our current studies in human biology. I'm sure my three would have enjoyed the hunt on their own, but some things are are even more fun when shared with friends.
Our afternoon together went like this:
1 - Explain and execute
Soccer Treasure Hunt
.
2 - Make articulated hand. (I'll share more on this another time.)
3 - Explain and execute
Gluten-Free Treasure Hunt
.
5 - Snack and Free Time.
6 - Dinner
Since we had already studied the importance of muscles and our need to exercise them, the
Soccer Treasure Hunt
was an easy tie-in. The kids worked together to solve the puzzles and locate each clue. I had everything set-up before they got here. I created a treasure box out of an old shoe box and purchased a treasure for each child from the dollar store. For this hunt everyone received a different game as their treasure. The suggestion from the author on labeling each clue with a specific child's name was one that was very much appreciated on my end. We did our hunts with seven children ranging in age from three-years-old to 14. Even though some of the kids in our group were outside of the recommended Pre-K through elementary age range they still very much enjoyed participating in the treasure hunts. Labeling the clues ensured that everyone got a turn, or two depending, and that skill level appropriate challenges were given to each child. None of us were very familiar with the sport of soccer, so we all learned something new.
Some of the kids working on one of the clues.
The
Clued in Kids
website offers an abundance of treasure hunts on various topics including health, holidays, sports, and education related subjects. Middle and high school level hunts are in the works. You can even use their Puzzlemaker to create your own customized treasure hunts! One feature that I really like is that you can purchase a treasure hunt in a greeting card. Oh, the possibilities! We are currently waiting for our 13th grandbaby to enter this world. With raising three young ones of our own it is very challenging to be an involved Nana and Papa. This is a wonderful way for me to be able to send a little love and fun through the mail to our grands. I am very excited about doing that in the future. Here is a video demonstrating the process of the treasure hunt:
Our second treasure hunt was the
Gluten-Free Treasure Hunt
. Honestly, I chose this for personal reasons. Our family has been directly impacted by the whole gluten madness, and this was a fun way to learn a little more about why some of us are sensitive to gluten in our diet. Food allergies have become a norm in our society, and it seems we know many people that suffer due to sensitivities. You can read about the Clued in Kids author's personal journey of discovery with autoimmune disease
here
. It was exciting to have a fun way to educated the kids on gluten sensitivity and hopefully empower them to be more aware of the issue and why it is important for some people to avoid gluten in their food. It was nice to watch the older kids get excited and help the younger kids figure out their clues. At the end of this treasure hunt everyone received a gluten-free snack, and they all enjoyed it. Some were amazed that the cookie included in their snack bag was gluten-free. This treasure hunt was a nice prerequisite to the next topic in our biology book, digestion.
One of the older kids helping a younger one figure out a clue.
It was fun gathering together and being able to provide enriching activities for the children in such an easy fashion. I wish I could download, print, and prepare all of the activities in my life in under 10 minutes. Now, that would be the day! (Maybe my house would actually stay clean.) You can
purchase your own treasure hunt
download for $5.99 and instantly provide a fun and enriching activity for your children.
Sign up
for their newsletter and receive a FREE treasure hunt!
The treasure!