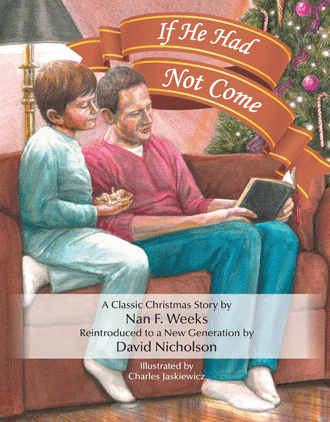 I have to admit that I have never heard the original version of
If He Had Not Come
by Nan Weeks, but I can see why it is considered a classic. The story is thought provoking and a great conversation starter between parent and child.
David Nicholson
retells the story sharing his thirty year family tradition so that we can begin our own tradition of reflection and conversation within our own families. Tradition has been at the forefront of my mind and a big topic for me lately. Ever since Avery joined our family five years ago, and with the addition of the girls two years ago, I have learned a lot about the importance of tradition.
If He Had Not Come
is a perfect fit for our family.
This year is the first year we are planning to take the month of December off from regular academics and take the time to really enjoy the season. One of the things I have planned is reading Christmas themed books all month. I really like the idea of keeping a basket of wrapped books in the family room and having the kids take turns picking one to unwrap and read each night before bed.
If He Had Not Come
will be in our basket for sure. I even plan to read it as a special activity for Christmas Eve, as that is when the story takes place. We'll light candles, make hot cocoa, pop popcorn, and read and discuss the story before bed. I can think of no better way to send my children off to bed on Christmas Eve.
Even though
If He Had Not Come
is geared toward the six years and up group, all of my children enjoyed reading it. (Mine at home are currently three, four, and nine.) The story is told through the eyes of a young boy. I like that the relationship in the story is between father and son. That, along with the artwork reminiscent of days gone by, gives the story a comforting feel lending to that word
tradition
that keeps popping up around here. David Nicholson provides some great resources in the back of the book. Harmony, the resident nine year old, and I enjoyed discussing the questions posed on the Interactive Topics page. The questions definitely are not geared for toddlers. Throughout December we will further explore the questions provided by Josh Mulville for Digging Deeper. We'll even do the Christmas activity in the back. The little kids are sure to enjoy it with us!
The added resources really make this beautifully bound, hard cover copy of
If He Had Not Come
a treasure to last generations. It's a timeless story with a timeless message that is sure to ignite valuable conversation within every family that reads it together. It's a wonderful resource for beginning a simple tradition that could have eternal implications.
You can order your own Casebound Hardcover copy for $18.95 and begin your own family tradition.
If He Had Not Come
is also available for $3.99 as an E-Book.
Follow David Nicholson and his book
If He Had Not Come
on Facebook
here
.