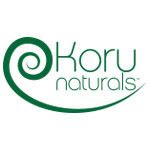 I have a secret to share. It's not really a secret with my close, personal friends and my family, but here goes. I have had scalp psoriasis since like forever. I literally have no memory of life without it. It was torturous as a child when my mother would painstakingly part tiny sections of hair to apply this tar based medicine to my entire scalp every-single-night. Nothing we did ever worked, or even helped for that matter. As an adult I learned the impact of my diet on the psoriasis, but nothing has ever made it go completely away, and up until now I never really found anything that helped with the scaling and flaking. That is until
Koru Naturals
came my way. I am so glad I took the opportunity to try Koru Naturals
Pure Emu Oil
and
Koolpurrie Restoring Balm
and share with you my experience. To say I'm impressed is an understatement.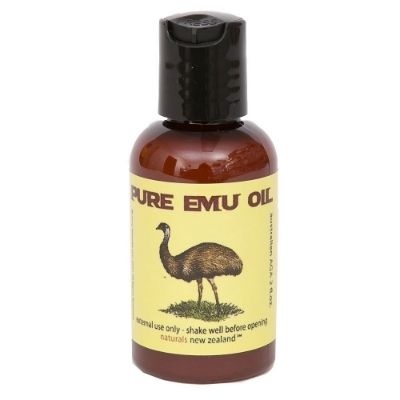 Have I told you lately how wonderful my friends are? If not, I am super blessed with a small group of amazing women in my life. My BFF of over 30 years gave me a divine gift for my birthday. I got to go to her house and take a long, luxurious, HOT bath. (Getting a hot bath at our home in the winter is pretty much impossible.) I love baths, and prefer them over showers immensely, so this was no little deal to me. She even fed me and took care of my children. BIG BONUS! This was the first time I tried the
Pure Emu Oil
. Koru Naturals Pure Emu Oil is a traditional Australian Aboriginal natural oil that is fully refined. It is milky white indicating that it has not been clarified and has retained all the naturally occurring essential ingredients. Let me just say that it is a wonderful addition to any spa experience. I ran the bath with some mineral salts (I knew I would be rinsing my hair in the bath, so I didn't add the oil directly to the water), turned on some relaxing music, and applied the
Pure Emu Oil
throughout my hair and over my entire scalp. I allowed the oil to stay on for at least a half hour, just because I could, and my hair and skin is always SO DRY in the winter. Can I just tell you how AMAZING my hair and skin felt after that bath. My hair was more soft and healthy feeling than it has been in years, and my skin was so smooth. It really felt great!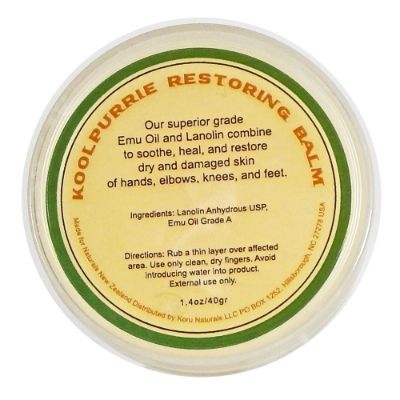 Winters here in the country have been something for my city hair and skin to get used to. We have well water which started taking a toll on my skin and hair as soon as we moved here. Winter provides the added challenges of dry air and dry heat. We heat with wood, and for anyone that has never experienced wood heat it is wonderful, but it is very drying to the skin. Despite keeping a huge pot of water on the wood burner, and occasionally running my diffuser/humidifier, My skin pays a toll. Having the
Koolpurrie Restoring Balm
, a healing blend of Premium Grade A Emu Oil and Pure Lanolin, to use this winter has been a real blessing. I am still amazed at how fast it absorbs into my skin and how quickly it heals. It is not wrong for me to say that results are near instant. The backs of my heels were terribly dry the first time I applied the balm. I just could not believe that one application made such a difference! There has never been a product that I've used on skin that was that dry that made any kind of difference after one application, let alone immediately on the first application. Again, I was super impressed and can easily see how those that suffer with chronic dry skin like the elderly would greatly benefit from using this pure and additive free balm that is rich in skin lipids.
My 2 ounce bottle of Pure Emu Oil and my 1.4 ounce container of
Koolpurrie Restoring Balm
are like little treasures sitting on my desk. I keep them on hand all the time. I regularly use the balm on my hands. The dry, winter heat makes my hand red and sore. The balm relieves this instantly. The
Pure Emu Oil
gets rubbed behind my ears, where my psoriasis is most bothersome, on a regular basis. I have even put a tiny bit on a cotton swab and gently applied it just inside my ears as the psoriasis can even present there, and it has been a tremendous help. There is still no flaking in my ears since I started this a few weeks ago. I have also given myself another oil treatment on my hair and scalp since my spa day. This is something I will continue regularly. I think one of the best things about both the oil and the balm is that they are not greasy. It's difficult to wrap my brain around how an oil can not be greasy, but it isn't. Each time I have used the
Pure Emu Oil
as a treatment for my hair and scalp it has absorbed into my skin and hair very quickly. What a difference from the traditional hot oil treatments I grew up with! It has never stained my clothing or my pillowcase. I literally slept with the oil in my hair overnight, and there wasn't a mark on my pillowcase. That was simply amazing to me.
I am super excited about the product line at
Koru Naturals
and look forward to trying more from them in the future. My skin is so much happier today than it was before the
Pure Emu Oil
and
Koolpurrie Restoring Balm
. You can learn more about the Koru Naturals product line by visiting them
online
, or following them on
Facebook
and
Pinterest
.