As an Eclectic Educator reviewing the Logic of English
Foundations, Level A
(manuscript version) was a bit of a challenge at first. It is a very precise curriculum that starts with some super basic reading and writing foundations. The name truly does fit the product. It begins laying the foundation at a level that I have never even considered. Level A is geared toward children ages four through seven. I had planned to use it with my four year old and my eight year old, however the four year old quickly became the primary focus.
Logic of English
provides everything you need to teach a child to read and write. I chose the manuscript version of Foundations A, but a cursive version is also available. Had I known more about the benefits of teaching children to write using cursive as opposed to manuscript, a new concept to me, I may have chosen the cursive version. As you consider
Logic of English
for your child, it is definitely worth exploring the idea of teaching cursive first. I have been inspired to consider this option for my three and four year old. The eight year old is currently learning cursive using another curriculum.
Foundations, Level A
is very thorough and uses some new-to-me methods of teaching reading and writing. The lessons are easier approached in two parts for my four year old. He eagerly participates in the first half of the lesson which involves pronunciation using multi-sensory activities. However, he's not so keen on the pencil to paper part of the lesson. Over time I have discovered that he responds better if we do the non-writing portion of the lesson in one sitting and the writing portion of the lesson in another. The thoroughness of the lesson easily allows for portioning it in such a manner.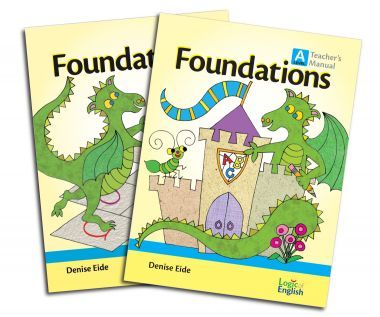 As an educator I enjoy the layout of the teacher's manual. It walks you through step by step providing you with a list of objectives and necessary materials right at the very beginning. Everything listed is not included in the curriculum. However, all items are things most of us would already have around the house; Dr. Seuss books, balls, toy animals, shaving cream, food, and the like. Each lesson lists teacher tips, multi-sensory fun, and other bullet points, including teaching tips and optional activities. The lessons are easy to prepare for, simple to follow, and completely able to be customized to your specific style, and individual student needs, using the provided options or your own creative variation of said provided options.
Even though my little guy isn't too keen on the actual writing process I am able to rope him in with the various options provided. The included white board, you provide the dry erase markers, is a wonderful tool. So far, I have been unsuccessful in getting him to write on the practice writing sheets, but I can get him to write on the white board most of the time; a suggested strategy within the curriculum. He also loves the tactile cards. These are the cards you use to help teach them the different strokes involved in writing the English language as well as the actual letters. They are textured with a mild kind of sandpaper feel, and he loves tracing the shapes with his fingers. This is just as effective as actually writing the letters and strokes and an important part of the reading and writing process.
Avery's first attempt at the letter 'a'.
Logic of English
Foundations, Level A
is a much more thorough approach to learning to read and write than I have ever considered. Honestly, at first I felt it was a little too involved, but after using it for several weeks I can now clearly see the benefit. One reason I had thought it would be a good fit for my eight year old is that she's a bit behind on her reading. I can completely see how this would benefit a struggling learner. However, it is too simple for my eight year old. BUT, we did find a way to include her. The program is so simply presented that she is able to actually teach portions of the lesson. What better way to cement what you know than by teaching someone else! On occasion the three year old even becomes interested in what we are doing and participates in portions of the lessons. So, in many ways Foundations A appeals to all of the children in our home.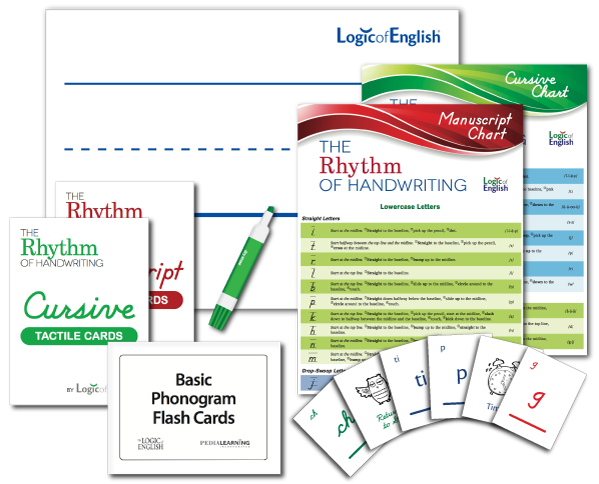 Aside from the teacher manual, manuscript workbook, white board, manuscript chart, tactile cards, flashcards, and game cards there is also a book included,
Doodling Dragons.
I especially like this book. It is subtitled
An ABC Book of Sounds
for good reason. Each letter A-Z is covered. The thing that makes it special is that all the sounds of each letter are presented. In my opinion, this fact makes
Doodling Dragons
a superior ABC book. This is a super simple way to introduce the letters of the alphabet and all the sounds they make. The letters and sounds are simply presented, and the illustrations are cute and fun.
Another aspect that Logic of English
Foundations, Level A
covers that I had not given much consideration as an educator is the various font types in which a letter can be presented in our reading material. What an important lesson! If a child is aware from the beginning that the letters he reads in books and other materials can be written in different formats how much less frustration he will experience. Brilliant!
My overall impression of Logic of English
Foundations, Level A
based on my personal experience is that it is a wonderful program best suited for struggling learners and/or those that desire a specific, structured, and detailed method for teaching their children to read and write. The program is thorough, fun, and produces a quick understanding of letters; the sounds they make and how to form them in the writing process. There are several packages that can be purchased through Logic of English. The products we have reviewed, if purchased simply as we have them, would be
Foundations, Level A
for $71.00, and $85.00 for the Foundations
Reusable Resource Set
. Visit their website to explore the various package deals and to learn more about how
Logic of English
may benefit your homeschool.
Connect with Logic of English via social media: