We LOVE music in our home. Harmony, the resident nine-year-old is almost literally ALWAYS singing. With our plan to include character and virtue studies in our 2014-15 school year the three
Happy Kids Songs
digital album downloads are a natural fit. The decades of experience brought to this project with Dr. Mac and Brian Mann is instantly evident. The songs are amazing!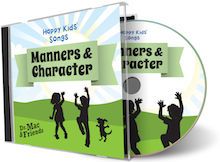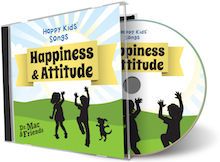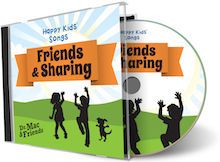 Each album is true to its title in the most literal sense.
Happiness & Attitude
,
Friends & Sharing
, and
Manners & Character
are all fun to listen to and teach exactly what the title says. The entire family enjoys listening to them over an over again. For me they have a kind of fun, Broadway musical feel to them that makes listening to the songs with the kids even more enjoyable. Each song is written in its own unique style making each one fun and interesting all on its own. The songs touch on tough topics that kids face frequently as a normal part of growing up. The sweet thing is there is always a solution given which models kind and upstanding behavior. Listening to the songs provides a wonderful platform for discussing possible challenges our children may face before they actually happen. The music also creates a peaceful atmosphere to discuss a challenge our child may be dealing with in the present. Listening to the music is a fun way to introduce our children to making decisions and problem solving with respect for others and ourselves.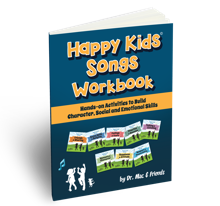 The
Happy Kids Songs Workbook
in softcover has already taken its rightful place on our bookshelf that holds all the materials we will be using in our homeschool this year. The workbook provides complimentary materials for all eight of the albums available. I love that the words to all the songs are printed in the workbook. It's helpful to look at while learning to sing the songs with the kids. I would love to have the actual sheet music just to aid in learning to sing the songs, but the words in and of themselves are helpful. There are reproducible activity sheets, allowing you to make copies for each child in your homeschool, or even a co-op, to go along with each individual song as well as multiple learning activities to compliment each album.
Downloading the songs is relatively simple, especially if you are familiar with doing this sort of thing. For me it was a bit of a learning curve. My first lesson was that all burnable CD's are NOT created equal. You simply MUST have the appropriate burnable CD for the playing medium you plan to use. It also is possible to listen to the songs directly from you computer without having to play them individually. It took me a little more effort to figure out how to create a playlist, but once I did that listening to the songs was a snap. The kids can have them playing in the background while they do their math on my laptop. We love to have them playing in the background while we work on projects, especially learning activities from the
Happy Kids Songs Workbook
.
The
Happy Kids Songs Workbook
is available to purchase for $12.56, and you can choose how you purchase the songs. If you would like to just get a few individual songs they can be downloaded for $.99 a piece. Alternatively, you can purchase each five-song CD for download for $4.95 which includes FREE downloads of the corresponding lyrics, coloring, and activity pages. Samples of the songs are available on the website so you can listen before you decide on your purchase.
The songs and materials are geared for ages three through eight years old. However, children outside of that age range are likely to enjoy them as well. Mine are three, four, and nine, and it was an absolute perfect fit. With our age gap it is so nice when we find products like this that appeal to such a wide age span.
All three of the kids enjoyed making the name mobile from page 91 of the workbook. It corresponds with the song Bye, Bye Bully which is NOT a song from one of the albums in our review, but the lesson was applicable enough. It helps children reflect on what it's like to be a new kid in the neighborhood and helps them think about positive things they can do to make someone new feel welcome. We discussed this together, and then we made the mobile together. The little ones, with a little help from me, got to cut, glue, and use glitter. Bonus! Harmony was able to create hers 100% on her own.
Happy Kids Songs
and the
Happy Kids Songs Workbook
has a secure place on our curriculum bookshelf. We will be learning about character and virtues for years to come. Having this as a resource will provide the element of fun that we are always looking to incorporate in our adventures in learning.