My four-year-old loves to sing the ABC song. She actually taught it to herself. I still remember the first time I heard her singing it and wondered how in the world she had learned the song. Then I discovered that one of her little toys that sings song was the "teacher". I've seen this with her when it comes to a lot of so called learning things. She learns them on her own. Naturally, I really thought
The Alphabet Song Game
by
The Critical Thinking Co.
would be a natural fit. Sometimes our preconceived notions have a way of getting in our way, and that happened for us this time around.
See, I thought
The Alphabet Song Game
would be something that I could just let her run with. So, I kept trying to get her to play the game on her own. That worked once or twice. Then she wasn't interested. The game was awesome, and I couldn't figure out why she didn't want to play it. What it boiled down to for her was that she wanted me to sit with her while she played the game. She didn't want to do it on her own. Once I adjusted my idea of how the game was "supposed to" fit into our routine all was well.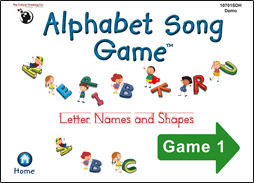 Her favorite way to play
The Alphabet Song Game
is with the laptop hooked up to our television. When we do this even the five-year-old joins in. Each level begins with an animated teacher singing the ABC song for you to sing along. On the first level each letter is given in order, and you are asked to click on the correct letter with what is being said. There is an option to have the letter repeated. As the levels progress choosing the proper letter becomes more and more challenging. The little kids get competitive with each other, and have a lot of fun trying to be the first one to identify the correct letter. The five-year-old even likes to pull out our ABC puzzle to match the letters from the puzzle to the letters in the game. They like having the option to repeat the game they just played or move on to the next game. Each level increases in difficulty of challenge, and you can play using all uppercase letters or all lowercase letters. We began with only uppercase and have "graduated" to learning the letters in their lowercase form. However, a high enough level of accuracy must be achieved before the next level becomes available. The kids really do have a lot of fun, and the nine-year-old even gets caught up in it sometimes.
We were given the computer license download for Windows as part of this review, but
The Alphabet Song Game
is also available as a download for iPads, Android Tablets, and Win 8 and Win 8.1 Tablets. My kids LOVE playing on Tablets. It's a new experience for them that we just recently added to our homeschool. So, I am certain that The Alphabet Song Game will get even more use via our nook which I just downloaded the app to today.
The Critical Thinking Co.
stands behind their products with a full satisfaction guarantee. Their quality products have been around since 1958, and their mission is to empower the minds of our young people. They offer wonderful customer support, and provide wonderful articles and advice via their website. You can learn more about
The Critical Thinking Co.
and
The Alphabet Song Game
by following them on
Facebook
,
Google+
,
Twitter
, and
Pinterest
. Their
website
is set up to search by grade, subject, or product type making it simple for you to find just the right product to meet the individual needs of your family.