My first assignment as I put my product reviewer hat back on this month was to review an amazing online resource.
SchoolhouseTeachers.com
is a treasure trove of academia that offers new discoveries and adventures to be had each and every day. The
Yearly Membership Option
offers a frugal homeschooler the ultimate in valuable resources.
SchoolhouseTeachers.com
provides everything for teaching subjects from art to science and all interests in between. New learning opportunities are added on a daily basis keeping the content fresh and interesting. A printable spreadsheet is available to help you keep track of the courses available and track your progress. There are even printables that you can use to record the skills covered by each student each month. Plenty of extras are available as well. Things like back issues of the
TOS Magazine
, Schoolhouse Planners for all levels of education, bonus weekly e-books, and various other supplements are all available to enhance your homeschooling experience.
Our family is completely enjoying the "electives" available through
SchoolhouseTeachers.com
. We already had plans to incorporate photography into our homeschool, but we hadn't quite gotten around to it. Harmony, early elementary level, was thrilled to learn that a complete Photography course appropriate for all ages is available through our membership. I was happy to have the complete course planned and laid out for me. All I had to do was familiarize myself with the lesson plan and explain the assignment. Awesome!
Harmony also
LOVES
to sing, so we are also currently having fun with the Music/Voice course. With Christmas right around the corner, I chose the Christmas Changes lesson. The goal of the three-week lesson fit right in with our current curriculum. It challenges us to consider how it is we think about things and how our perceptions can change the way we view ourselves and the world around us. We are enjoying the story of Joseph Mohr and the history of the cherished Christmas carol "Silent Night, Holy Night". I think my favorite thing about the Music/Voice course is that it is designed with the 'Whole Family is The Student' approach. Very fun!
With the plethora of options available on
SchoolhouseTeachers.com
we are looking forward to exploring many more subjects together as a family. I chose to focus my energy on the early elementary level. In the future I will be exploring more with our two resident preschoolers as well. It will be a long time before we hit high school level again in our home, but there is plenty of content there for middle school and high school levels as well. Actually, there are resources available to all age groups, even adult. I plan to explore the Family Nutrition course myself sharing with the family as I learn along the way.
Academics aside,
SchoolhouseTeachers.com
offers many other free resources and extras. My current favorite is
AppleCore
, an online record keeping and course tracking system. Currently, our family is using a different system, but I plan to switch fully to this one when we change to the next level of curriculum in the spring. It is VERY user friendly and super simple to set up. Record keeping has always been a challenge for me. This system will keep everything organized and right at my fingertips. Love it!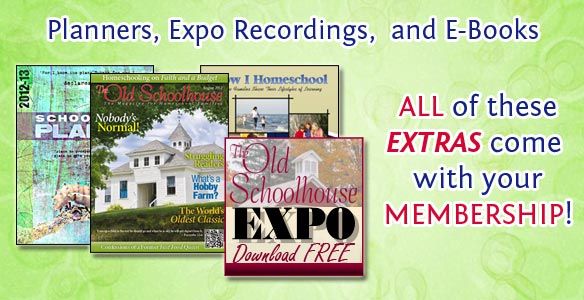 If you'd like to try before you buy, and see how your family can benefit from
SchoolhouseTeachers.com
, a one month subscription may be purchased for a mere $3! Once you've had the opportunity to explore the website and discover all the amazing content for yourself the investment is minimal. For just $12.95 per month, or 10% off at $139 for the entire year, your whole family will have access to an abundance of lesson plans, e-books, planners, and loads of other learning materials providing a complete homeschool experience or richly enhancing what you are already doing within your home. The application possibilities are endless.
SchoolhouseTeachers.com
is sure to be a valued resource in our homeschool for years to come.