Home School Adventure Co.
is a wonderful resource with a great mission that is focused on character building within the family unit.
The Wise Woman with Literary Analysis Journal Questions
melds perfectly with this mission. I was very excited to be chosen to review this book with my eight-year-old in mind. She does fall just short of the recommended age group of 9-11 for a family read aloud, ages 12 and up for family discussion and/or parent teacher guidance, with high school aged young people able to work independently with the material, but I was so inspired by the character content of the story that we took the plunge and read several chapters per week together as a family.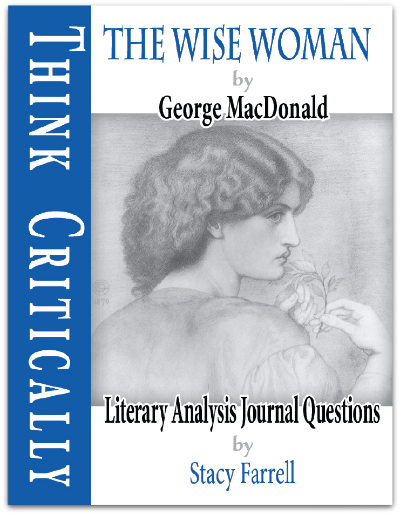 We do a lot of reading in our home. It was my ambition to read a chapter per night and just blaze right through the book. However, with an eight-year-old, four-year-old, and three-year-old my intention was not very realistic. I had dreams of sitting on the couch, printed chapter in hand, with the toddlers quietly playing at my feet and the eight-year-old cuddled next to me intently focused on the story. Yeah, well, it wasn't quite like that, but we are thoroughly enjoying the story. The language takes a bit more focus for us since it is the older English style of writing, the story was originally published in the 1800's after all, and my eight-year-old is still reaching fluency in reading. This type of writing is a bit of a challenge for her to focus on and comprehend. The discussion questions help a lot. I do change up the wording a bit to help her grasp what the questions are asking and even go back to the part of the story the question is referencing as a refresher. They really do inspire deep thought, require real critical thinking, and challenge the reader with some serious self reflecting.
The story makes no biblical reference, but tying biblical principles into the discussion is simple. With a fable like telling of the story of the princess, the shepherd's daughter, and the Wise Woman we easily travel into the tale finding ourselves watching every move of the characters; ready and willing to learn the lessons taught both by the poor example of the Somebodies and the purposeful instruction of the Wise Woman. As the story unfolds we find ourselves challenged by the discussion questions as we analyze the behaviors, choices, and character of the young women in the story, as well as the discipline and guidance of the Wise Woman.
Exploring the story of
The Wise Woman
has given us plenty of opportunity for reflection and discussion. Though my brood is a tad young for this resource, we are thoroughly enjoying it, and I will be saving my printed copy in a binder for use at least a few more times throughout our homeschooling journey. My review version is in PDF format, and I am a paper in hand kind of gal. So, I printed out each chapter along with the corresponding analysis questions in advance of each reading. However, you could have easily read it directly from my laptop or my Kindle Fire. The chapter reference is super handy since it lists the chapter and the questions with separate links. It made my job of printing the days materials a breeze. We will be using corresponding vocabulary resource with our future readings. With its chapter and page reference for each word it will be easy to work into a more thorough lesson plan as my children grow and mature over the years. Such a valuable resource! Speaking of value, how about an extra
10% off downloads
at
Home School Adventure Co.
for my readers? (The print edition is available for $28.95 with the e-book download, which we used, priced at $14.95.)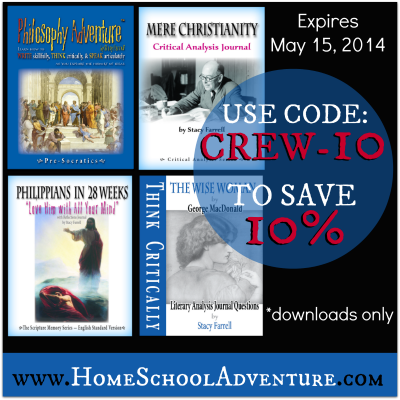 We have just a few chapter left, and we cannot wait to see how it ends. Will the girls finally learn their lessons, be reunited with their families, and become quality young ladies with something to offer others? Or, will they remain imprisoned by their poor character and self-absorption? What about the Wise Woman? Do her lessons finally get conveyed? If not, how does it effect her? What about the parents? Do we learn more about them and what they gain from the experiences with their daughters? Do they all come together in the end and realize how alike they are despite their station is society, or not? We do have questions awaiting answers! It will be fun to see how it all plays out, and my excitement remains for the endless possibilities that exist with this fine piece of literary material.
Get social with Home School Adventure Co.
Facebook
Twitter
Pinterest
Google+
Instagram