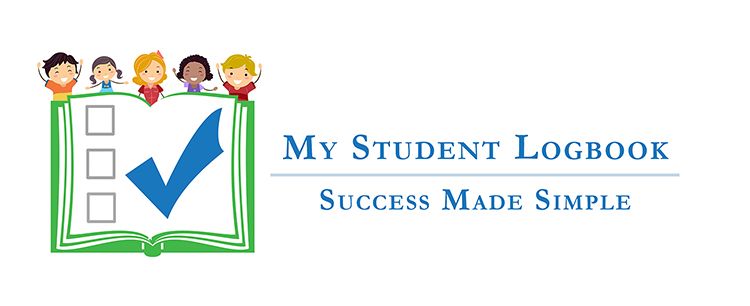 My Student Logbook
has created a versatile, adaptable, and easy to use system for homeschool families to teach their children to track their individual progress. The system was born out of the frustration of a real life homeschool mom anticipating the birth of her seventh child. With a little inspiration from a tried and failed system, and the assistance of a loving husband,
My Student Logbook
was born. Harmony is thoroughly enjoying using her
Undated Student Logbook
this school year.
At first, I was a little apprehensive about Harmony using a logbook to track her school year independently. She is nine, falling nicely into the second grade and up intended user age range, and not used to this level of accountability. I didn't tell her we were getting it, and decided to surprise her with it one morning after breakfast. We received Harmony's undated logbook with the Butterflies cover quite some time before we were actually beginning our new school routine. So, I chose to use it just for her daily household responsibilities as a way to help her learn to use the logbook and get used to the accountability of record keeping in a more relaxed manner. She was SO excited! Seriously. I am not kidding. I know. I was a little surprised myself. I mean, I thought she'd use it okay, and she may even enjoy it, but excited? Really? Yes. EXCITED! In fact, last week, when she found out I would be writing the review soon, she told me, "Make sure you tell them I love it!" The passion has not waned even as we continue to use it for our school year. It may be, at least partially, that she can use it to keep me on track. "Nana, we still need to do Spelling!" What child doesn't like reminding their parent of something they forgot? Oddly enough, I have never heard, "Nana, I forgot to clean the rabbit cage!" (Insert smirk here.)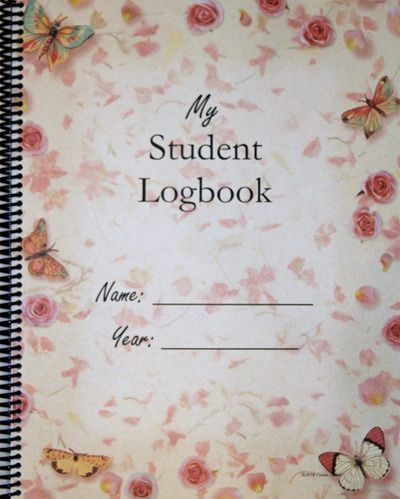 Currently, Harmony is using her logbook to keep track of her school activity as well as her household responsibilities. I
LOVE
that I don't have to write everything down ALL-THE-TIME anymore! At the start of each week I flip the page, tuck it under her list, and write the date at the top. That's it! No more list making. No more forgetting things. No more pressure. It's one less thing I have to think about, and that my friends is a VERY beautiful thing! Since we don't order our day by increments of time, rather a routine of activities, I use the "time" column to put which day she is to do the task. For example, We do Bible and Devotion every day, so I write M-F. However, we do our Nature Journal on Fridays only, so I simply write F. This lets her know in a simple fashion what she is to be doing each day. It works wonderfully for the both of us, and I don't anticipate needing to make any changes to our routine until January of next year. That means we will have used a list that I wrote one time for
FOUR MONTHS
. (Que triumphant music here.)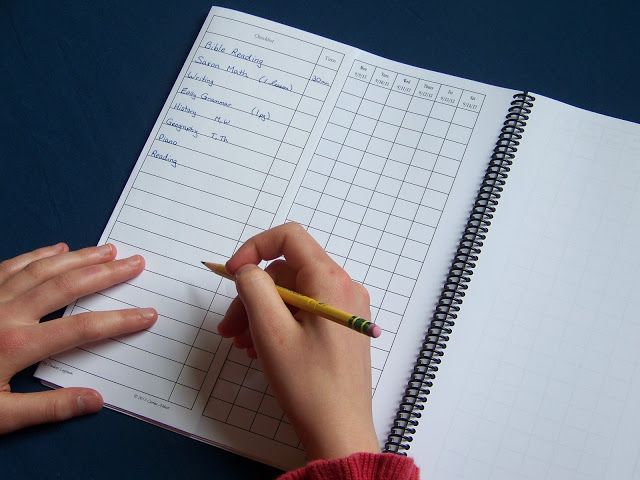 Myself, I am very excited about the implications of using
My Student Logbook
over the long haul. One of the goals of our family is to teach our children to be independent and self-driven. This tool fits perfectly. Over time Harmony, as well as Bella and Avery when they're older, will learn to hold themselves accountable and keep track of their progress. The "little extras" round out the logbook nicely. I love the pages tucked neatly in the back. What child, young or old, doesn't like to fill out an "All About Me" page? (Not to mention the pages to list your prayers and goals, the bible verses they've memorized, the books they've read, field trips and other activities, test records, and highlights of the year.) Way, way, way down the road it will also come in handy when it's time for me to write their high school transcripts. So much potential in such a little package!
My Student Logbook
is available for $15 in 2014-15 School Year, 2015 Calendar Year, and Undated versions. A PDF instant downloads are available for $10 - $20 depending on the download chosen.
To learn more about
My Student Logbook
visit them on
Facebook
or check them out on
YouTube
.