Heirloom Audio Productions
has created a lasting treasure in the telling of the story of Sir Francis Drake through the eyes of Ned Hawkshaw, a boy set out on an unimaginable adventure, in the audio theater production
Under Drake's Flag
. Even though my little guy, 4.5 years, is under the target audience age of 6 and up the story made an impact on him as he has heard large parts of the story a couple of times. As I was preparing for this review he came to show me one of his drawings and noticed I had the website up. He said, "Hey! We have that!"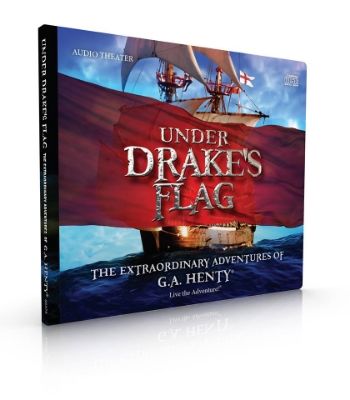 The tale of Sir Francis Drake is an inspiring story of grand adventure, Christian principals vividly lived, and the unfortunate events of the Spanish Inquisition. It is a boy grows to man story told in a way that enraptures the listener with an unmatched dramatic telling that has captivated our family. Over the past few years I have tried to no avail to interest the resident nine-year-old in audio dramas; high quality productions that I will leave unnamed because they are fabulous in their own right, but nothing captured her attention, ever. Nothing, that is, until
Under Drake's Flag - The Extraordinary Adventures of G.A. Henty
landed in our laps through the Schoolhouse Review Crew. What a blessing!
The story of Ned Hawkshaw captured our attention from word one. We have traveled aboard The Golden Hinde several times as we drove in our car, we have sailed the seas in our kitchen while washing dishes and cooking dinner. We've eaten with Ned and his companions at our dining room table during our family meals. I seriously have lost count on the number of times we have listened to this story, at the request of the previously uninterested nine-year-old, and it will surely continue to be enjoyed for years to come.
Included with the
two CD set
($29.95) is a beautifully printed study guide companion. There is also a more extensive PDF Download study guide available with product purchase. (An
MP3 download
is available for just $20, and
other CD packages
are available on their website.) Although we have not yet used either workbook we will certainly put it to good use in the future. I love the way the study guide is divided into chapter sections of the story. Questions are provided that encourage active listening and deeper thinking. Words that are less commonly used or period based are highlighted for further definition increasing the listeners vocabulary and furthering their ability to really step into the story. There are even a few short Bible Studies provided at the end of the workbook.
Listening to the telling of
G.A. Henty's Under Drakes Flag
with my children has been an amazing experience that has created such vivid pictures in my own mind that I almost feel as if I've traveled along with Ned and Sir Francis Drake as they fought sharks, survived shipwrecks, stood up to the Spaniards, and returned home to begin life anew with an amazing tale to tell of survival and courage. To learn more about
Heirloom Audio Productions
and their telling of
Under Drake's Flag
visit them on
Facebook
, and
explore the website
. This is sure to be a real living book that will stand the test of time for generations to come. We look forward to more productions. My family cannot get enough!