On August 14th I sat down with my
The 7 Minute Life Daily Planner
by the time management company
The 7 Minute Life
. I did a quick review of my current priorities and began working toward discovering my purpose. I enjoy reviewing time and again what my strengths are and putting that knowledge to work in my life. Sadly, it had been much too long since I took the time to do any real reflection of self. Sometimes all it takes is a quick, personal inventory of self to set us back on track with our use of time and our direction in life.
The 7 Minute Life Daily Planner
is a wonderful tool for guiding you through this process, putting what you learn to work, and leading you using baby steps in everyday life to actively work toward life goals, both large and small.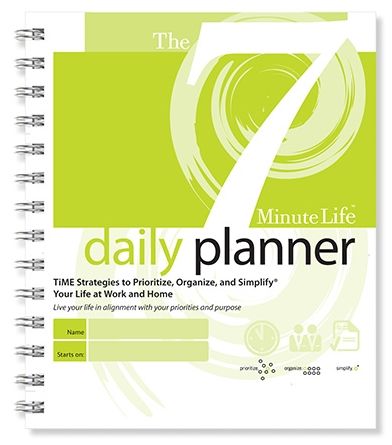 The timing of
The 7 Minute Life Daily Planner
in my life was perfect. It's objective is to teach you how and assist you in a course of action which uses the method
prioritize, organize, and simplify
. This was VERY encouraging to me. I learned that I have taken great strides in these very areas in my life all on my own, and I hadn't even realized it.
Woohoo!
As I delved into the personal inventory tasks in the beginning of the planner I found that it was extremely challenging to create the different lists. It's not that the tasks are challenging in and of themselves. I am just short on items to list. In previous years I would have found this no challenge at all. In fact it would have been more likely that I ran out of lines on the page than struggle to fill them. How refreshing!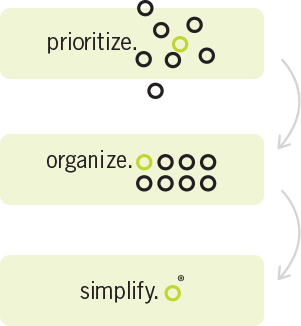 Since I do not work outside of the home or even run a from home business, at least not at the moment, I used the areas that reference work items to reflect my work as a homeschool mom. Again, perfect timing as I was preparing to begin structuring our new routine for the 2014-15 school year. I do use a wonderful homeschool planner, but having
The 7 Minute Life Daily Planner
is a blessing in that I can set personal goals and track items that pertain more to me personally; whereas doing so in my homeschool planner would have been cumbersome and truly rather impossible. Having a personal planner with such a specific purpose allows me to really keep on track each day. Although I am easily able to adjust this planner to fit my personal needs I can see its more inherent value to a mom (or dad for that matter), especially a homeschool parent, that either works outside the home or runs an at home business. There is such a treasure trove of resources both inside the planner and online that owning this planner puts you in a position to actively achieve the goals you set for yourself, both large and small. It can be applied to a homeschool, family, business, or personal venture. Everything fits within the pages; goal setting and tracking, personal inventory, business contacts, home repair contacts, financial goals, life goals, and daily accountability to self, even in diet and finances, plus much more.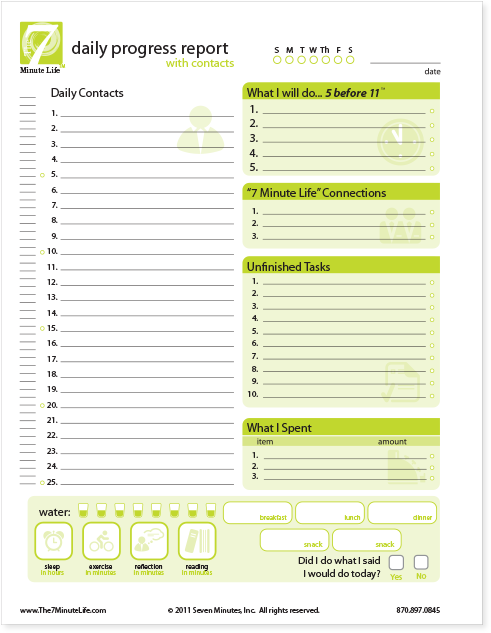 Over the past month I have been actively using the Daily Progress Report in
The 7 Minute Life Daily Planner
. Praise God, I rarely need to contact one or two people in a day, never mind the 25 for which space is given. Instead, I track my progress with homeschool related tasks. I love the "What I will do...5 before 11" section right at the top of the page. This really keeps me focused and on track, The "Unfinished Tasks" is encouraging rather than stressful, as I first thought it would be. Keeping my most important unfinished tasks in sight each day reminds me of what is most important, takes off the pressure, and encourages me when I get to check it off; no matter if it is today or a week from now, or even longer. Having it listed as unfinished is perfect in keeping perspective and reminding me of something I could work on when the odd opportunity presents itself. The unfinished task is right where it belongs. No pressure! I also love the small section at the bottom of the page where I list what money, if any, I spent that day. It gives me a tangible resource for tracking my spending and keeping a tighter eye on my finances. Also, I can either record my meals or plan them at the very bottom of the page along with tracking my water intake, sleep, exercise (theoretically, of course), and time spent in reflection and reading. It also holds me accountable by providing two boxes, one labeled yes and one no, for me to check as to whether or not I accomplished what I set out to do that particular day. Full accountability on one small page!
The facing page provides places for the days appointments, voice mail records, thank you notes to send, and a generous portion of the page is dedicated to allowing you to write down whatever notes you may desire or need to record. This feature will surely come in handy whenever I am working on a project that involves some serious planning, and I'm sure you can see how it would be an asset to someone otherwise employed.
In addition to the $24.97 printed copy there are several other options available through
The 7 Minute Life
including a downloadable version, strategy tools, online community, live training, and much more. This online video explains more about
The 7 Minute Life Daily Planner
and how it works. You can learn even more by visiting them online and checking them out on
Facebook
,
Twitter
,
Pinterest
,
Google +
, and
YouTube
.