By now you've probably figured out that I love to support small business and homeschool created ventures. Here we are discussing another wonderful product created by a homeschool mom.
Homeschool Legacy
is the brainchild of Sharon Gibson. She's a veteran of the homeschool sort. She's been there, done that, and through her passion for figuring out what works well she created these wonderful unit studies.
For the past month or so our family has been enjoying
Birds of a Feather
. It's a fun, no-prep, four week unit study. We already had a fascination with the birds that visit our yard, and we have an avid owl lover in the house, but working through this unit study provided us the opportunity to get to know the birds in our area a little more personally and enjoy some quality time together learning even more about birds and how they live.
Birds of a Feather
is a simple unit study with everything laid out for you. There is no real prep involved, but you will need to do a little thinking ahead.
Unfortunately, we no longer live in an area with a wonderful library system at our disposal. (The trade off was well worth it, but when it comes to things like this we have to get a little more creative.) Sharon did a wonderful job providing a vast list of suggested reading to accompany the activities and focus for each of the four weeks. Despite the large selection of material to choose from I was unable to locate not one of the 12 books she recommends for the first week. However, like any good homeschooling mom I have my own personal library right at home. We made do with what we had, and it went quite well from there.
Each of the four weeks has a theme. We learn about a different aspect related to birds, but the basic outline remains the same. There are library and video choices, a supply list, daily activities, weekly activities, family devotions, and a science lesson. Everything always leads back to the Bible and God's wonderful creation. The activities support learning together as a family and spending time in God's word both independently and together.
The girls setting up the feeding station.
As part of our review we received the digital download version, but the unit study is also available in paperback. Personally, I would love to own the paperback copy, but I'm a book in hand kind of girl. I just printed off the lesson each week, got my materials together, and planned when we would do each activity. Basically, I just plugged it into my planner. Super simple!
With our current stage in the game, my favorite part of the unit study was family movie night. I liked the first film the best,
Fly Away Home
. It was the perfect choice for getting the family interested in learning more about birds. The movies really do add kind of a finishing touch to each area of study within the unit. I especially like how the study is designed (rather intentional or not) in that it appeals to all learning types. There's writing, reading, hands on, and visual learning all wrapped into one complete and easy to implement package. There really is something to appeal to everyone, and it's wonderful for the educator in that it's all nicely presented with very little preparation needed. We didn't need to purchase anything, but depending on what you have on hand you may need to buy some things to complete the activities and projects.
Hanging the suet feeder.
As a side note, since we don't have anyone in the category at the moment, Sharon even provides all the information for both Boy Scouts and American Heritage Girls to earn their relevant badges. In the future we just may take her advice and use the unit study to complete a 4-H Project Record. This is our first year participating in the fair, and the one doing the participating is already well underway with her project. The ideas for using the unit study for children that participate in these groups are found in a section titled Getting the Most Out of Your
Once-a-Week Unit Study
, and I highly recommend you read this part before you start. There is a lot of information provided to really help you get the maximum benefit from using the study.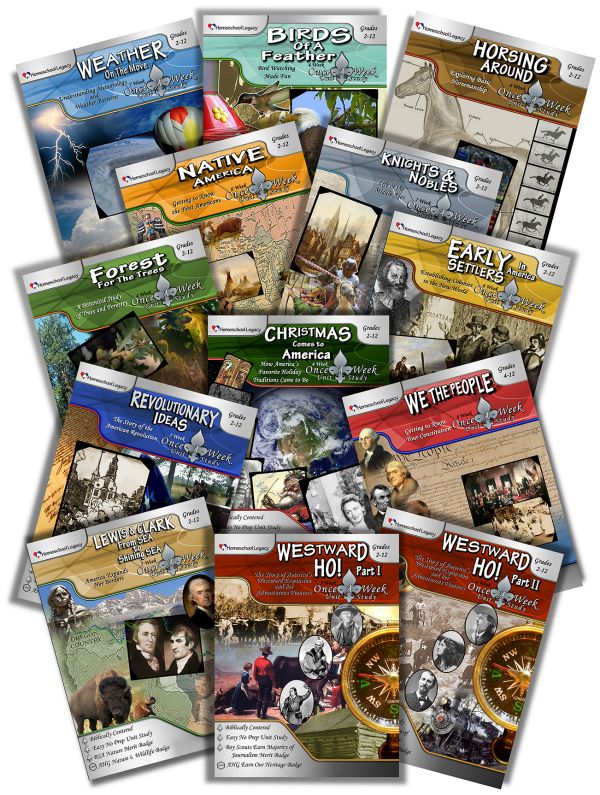 Homeschool Legacy
is social on
Facebook
,
Pinterest
, and
Twitter
. To learn more about the
Birds of a Feather
unit study as well the many other unit studies available through
Homeschool Legacy
visit their
website
, or read more reviews by clicking below.